Huobi Wallet will officially launch 45,000 Ula NFTs, all of which will be drawn for free during a limited period!
To thank all of our users and celebrate the upcoming holidays, Huobi Wallet is holding an exclusive Ula NFT giveaway event for our Discord members.
The top 10 inviters will each get 1 NFT for FREE. The top 3 inviters will get extra rewards.
Event Duration: 13:30, December 24 – 13:30, December 28 (UTC)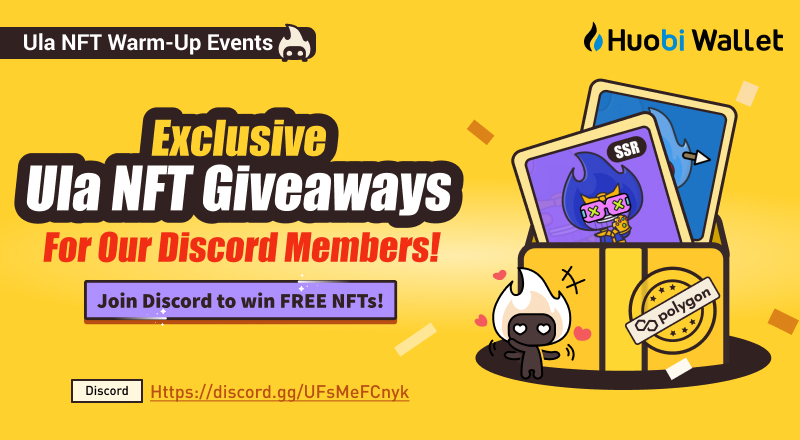 How to participate:
Step 1: Join the Huobi Wallet Discord: https://discord.gg/UFsMeFCnyk
Step 2: Invite your friends to join Discord with your "Invite link"
Details and Conditions:
1. According to the number of valid invites, the top 10 inviters will each get 1 NFT for free each day. Besides, the top 3 inviters during the event will obtain extra rewards based on your ranking.
1st place reward: 300 USDT
2nd place reward: 150 USDT
3rd place reward: 50 USDT
The top 10 winners will be announced in Discord everyday. The top 3 winners will be announced on December 28.
2. We'll send out forms to winners after confirmation and collect their polygon addresses.
3. The NFTs will be distributed to the winners on December 28. Extra rewards will be distributed to winners within a week after the event ends.
4. Huobi Wallet reserves the right of final interpretation for all aspects of the above event and the right to disqualify any participants showing signs of fraudulent behavior.
Follow us:
Twitter: https://twitter.com/HuobiWallet
Discord: https://discord.gg/UFsMeFCnyk
Medium: https://medium.com/@HuobiWalletOfficial
Telegram_EN: https://t.me/huobiwallet_english
Telegram_CN: https://t.me/huobiwalletchinese