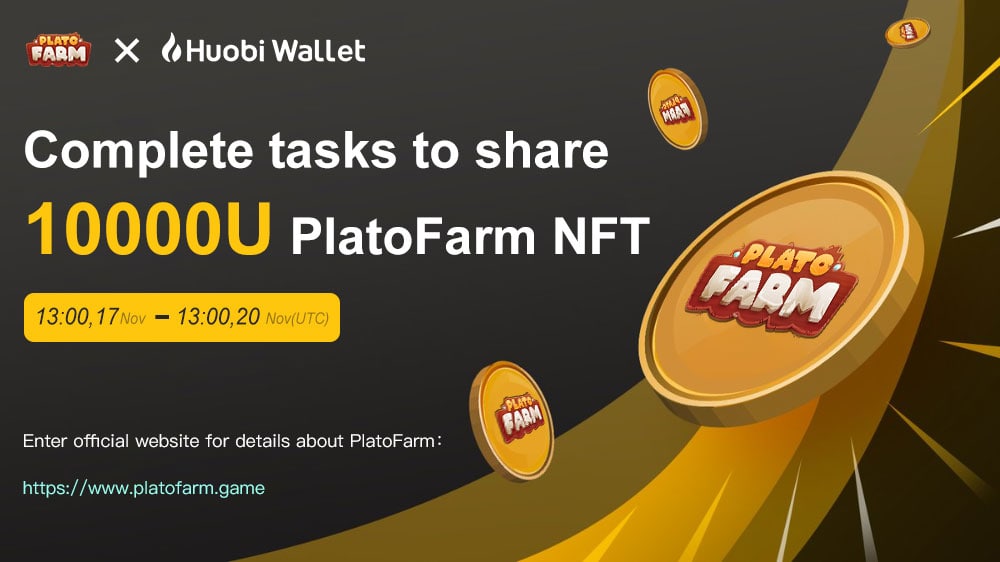 ​Event Introduction:
In order to celebrate Plato FarmPro becoming the first chain game on the Apple App Store, Plato Farm & Huobi Wallet are hosting an airdrop.
PlatoFarm NFT that worth of 10000U will be divided equally by all the qualified users who have finished all the tasks.
Event time: 13:00,17 Nov-13:00,20 Nov(UTC)
Join the event here:
Reward distribution:
Rewards will be distributed to the Heco address of the Huobi Wallet submitted by qualified users within 7 working days after the event ends by Plato Farm. Check whether the airdrop reward is in the account through Huobi Wallet.
Event Rules:
Users who complete all tasks will have the opportunity to receive PlatoFarm NFT and rewards.
Note:
You can only submit the Heco address via Huobi Wallet.
Disclaimer:
The Platform does not make any warranty or commitment to any information, product and business of any third-party website linked to the Platform or any other form of content of a subject other than the Platform. Your use of any third-party website links through the Platform is your personal choice and not our recommendation. It is your personal decision to use any service, information and product provided by third-party websites, and you shall bear all the responsibilities arising therefrom; Any economic loss caused by your use of a third-party website shall be resolved by you and the third-party website.
Our community:
Huobi Wallet
2021.11.17