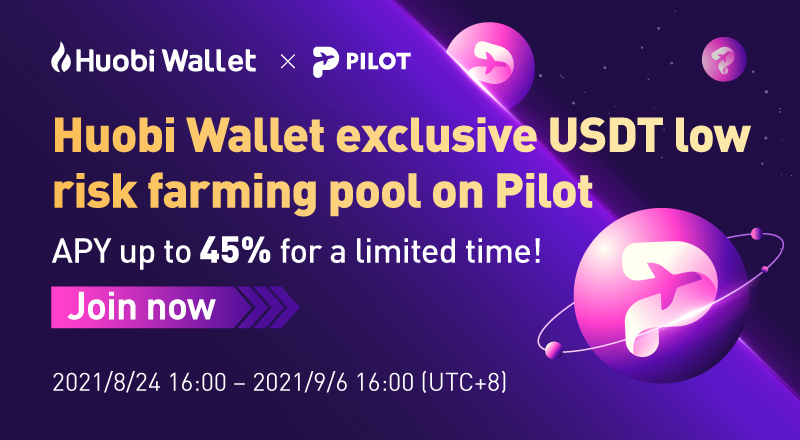 During the event, participate in Pilot USDT low risk farming pool through Huobi Wallet, and enjoy an APY up to 45% for a limited time!
pUSDT: The basic APY is 25.29%. Huobi Wallet users can enjoy an APY up to 45%.
Event time:
2021/8/24 16:00 – 2021/9/6 16:00 (UTC+8)
How to join this event?
Download Huobi Wallet;

Create or import your Heco wallet address through Huobi Wallet;

Search "Pilot" through Huobi Wallet, choose "USDT" on the homepage, deposit USDT to get pUSDT, choose "low risk farming", choose "pUSDT" (Huobi Wallet Exclusive), click "FARM", and deposit pUSDT;
Event rules:
Please make sure your Heco wallet address has enough HT to ensure the completion of the transfer on the Heco chain;
If and only if you enter Pilot through Huobi Wallet to participate in USDT low risk farming (Huobi Wallet exclusive), you can enjoy an APY up to 45%;
APY up to 45%: the APY varies with the change of USDT deposit amount, which is up to 45%. With the increase of USDT deposit amount, the APY may become lower. Huobi Wallet does not guarantee the rate of return;
The additional reward is calculated in real time. Users can check the farming reward and receive it on the "Invested" page of Huobi Wallet;
Huobi Wallet reserves the final interpretation right of this event.
Tutorial:
How to use Heco (HT) on Huobi Wallet?
About Pilot
Pilot is a smart over lending protocol based Heco chain released by Pilot Lab, it is the first over-lending product on the Heco chain. It supports users participating in liquidity farming through over-lending plus leverage to get more revenue. When the user has insufficient funds but wants to participate in DeFi liquidity farming, Pilot can provide up to 3X the leverage to help users obtain the maximum return per unit time, and at the same time provide a borrowing pool for users who prefer stable returns to earn profits.
Special Note:
The above activity rules and instructions are provided by Pilot project party. Huobi Wallet does not endorse, guarantee, promise or recommend the activity content. Please make your own judgment and evaluation.
Disclaimer:
The Platform does not make any warranty or commitment to any information, product and business of any third-party website linked to the Platform or any other form of content of a subject other than the Platform. Your use of any third-party website links through the Platform is your personal choice and not our recommendation. It is your personal decision to use any service, information and product provided by third-party websites, and you shall bear all the responsibilities arising therefrom; Any economic loss caused by your use of a third-party website shall be resolved by you and the third-party website.
Our community:
Telegram_EN: https://t.me/huobiwallet_english
Telegram_CN: https://t.me/huobiwalletchinese
Follow us:
Twitter: https://twitter.com/HuobiWallet
Medium: https://medium.com/@HuobiWalletOfficial