Huobi Wallet and Huobi Global will jointly launch the withdrawal fee rebate event. Users withdrawing tokens from Huobi Global to Huobi Wallet will get fee rebates with a total amount of 30,000USDT.
Event Duration: Aug.15th 8:00~Sep.1st 7:59(UTC+8)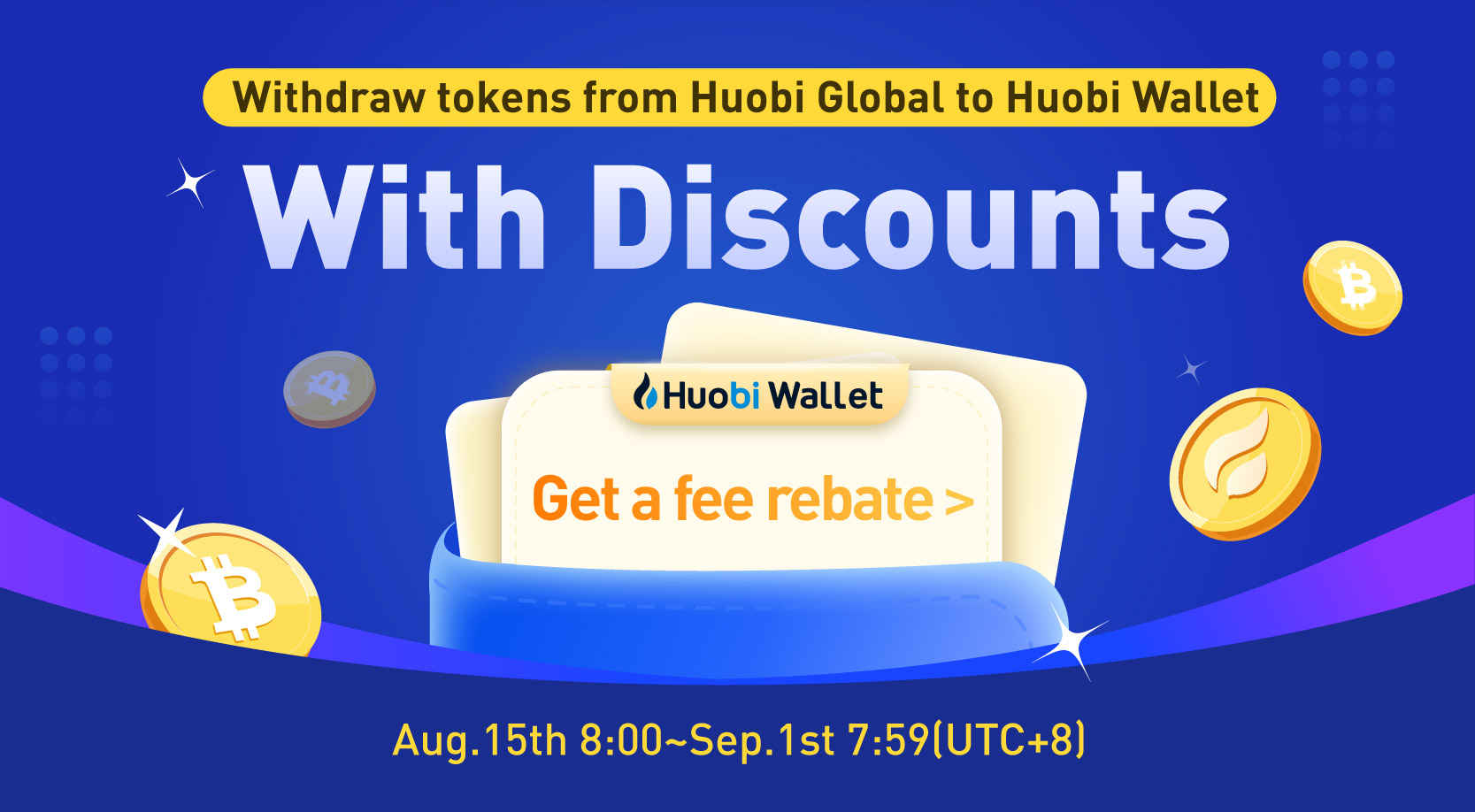 【Event Rules】
1.Withdrawing tokens from Huobi Global to Huobi Wallet to get fee rebates with a total amount of 30,000USDT. A maximum of 10,000 USDT will be issued per day. First come, first served!
2.The event covers 20 tokens this time, including BTC, ETH, USDT, HT, DOGE, XRP, DOT, BCH, UNI, LTC, MDX, EOS, LINK, SHIB, TRX, MATIC, SUSHI, AAVE, ETC, KSM
3.If you withdraw the 20 tokens above from the HECO chain for the first time each day, no fees will be charged; If you choose other chains, you will receive 2.5 USDT rebates at most.
(Rebates will be renewed at 8:00 a.m. UTC+8 every day.)
4.After completing withdrawal, users need to collect from Huobi Wallet.
5.Rebates will only be sent to users' Heco chain address in the equivalent number of USDT(calculated at the exchange rates and USDT price at the time of withdrawal completion). For users without a HECO chain address, please create one before collecting.
6.Rebates will expire 3 days after the event at 8:00 a.m 4th Sep. (UTC+8)
7.If cheating is detected during the event, Huobi Wallet is entitled to cancel the qualification of related address.
8.During the event, if Huobi Global cancels depositing and withdrawal of the tokens above, Huobi Wallet will also suspend rebates for the corresponding tokens. Huobi Wallet reserves all rights of interpretation for the above terms.
9.Please update to the latest version to participate in the event.
Huobi Global:v6.3.9
Huobi Wallet:v2.9.0.
Huobi Wallet Community:
Telegram_EN: https://t.me/huobiwallet_english
Telegram_CN: https://t.me/huobiwalletchinese
Follow Us:
Twitter: https://twitter.com/HuobiWallet