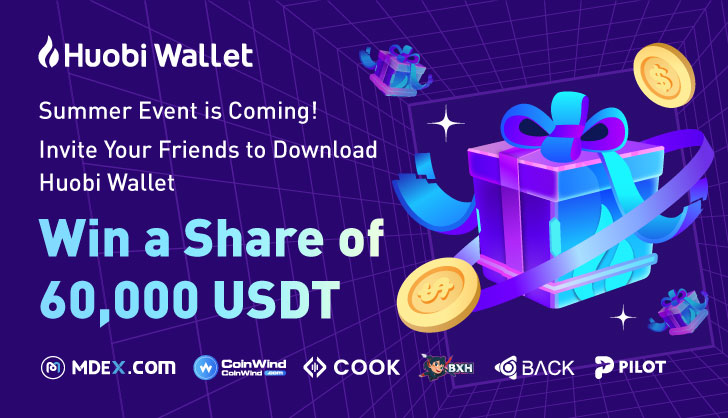 To celebrate Huobi Wallet launching the ground-breaking version, we are hosting an "Open Color Box" airdrop event in this passionate summer!
Event Duration: 18:00, July 5 - 18:00, July 14 (UTC+8)
Do tasks to get a chance to open the color box.
Exclusive for new users:
Enter the invitation code and get 1 chance to open a color box.
Invitation task:
During the event, if you use the exclusive invitation code to successfully invite a new user, you will get 1 chance to open a box. The maximum number of invitations for a single user per day is 30.
Rewards:
Gold box = 120 MDX, Green box = 60 COW, Yellow box = 860 COOK, Purple box = 17 PTD, Orange box = 20 BXH, Blue box = 13 BACK.
Event details:
1. To participate in our event, you should update your Huobi Wallet to the newest version (v2.8.4). Download app from the following link: https://www.huobiwallet.com/;
2. After the invitation code is verified on the event page by the invitee, the inviter can get a chance to open the color box. If your chance is not updated, please make sure if your invitee has bound your invitation code;
3. The winning prizes will be distributed to the Heco address within 7 working days after the end of the event. There may be a delay in receiving the prize;
4. There may be a delay in updating the chance to open the color box;
5. During the event, if there is cheating, Huobi Wallet has the right to cancel the winning qualification of the associated address;
6. The event ends at 18:00 (UTC + 8) on July 14. After the event, the chances of users to open color boxes will be cleared. Please use the remaining chances before the deadline;
7. Huobi Wallet reserves the final interpretation right of this event.
Thanks to our sponsors:
MDEX: MDEX is the first decentralized transaction protocol that uses transaction fee for platform token repurchase and burn. It also is creating a multi-chain compound ecosystem and a self-driving closed loop for value.
CoinWind: CoinWind is a DeFi smart mining financial platform. It automatically matches pledged tokens through contracts, cooperates with the strategy of hedging impermanence to maximize users' income, and effectively solves single token and LP mining low-income problem and the impermanence of LP mining risk issues such as large losses.
COOK: Cook is a platform that makes it easy to access and participate in the exciting world of decentralized finance. Our cross-chain platform enables a wide range of people from all over the world to easily select or create funds in a simple to use platform.
BXH: BXH (Bitcoin DEX on HECO) is an innovative DEX trading platform developed based on HECO Chain. It is a decentralized exchange with community autonomy and automatic market-making (AMM) which aims to promote automatic exchange transactions of high-quality digital currencies on the HECO chain and provide liquidity for transactions on the HECO chain.
BACK: Back is a decentralized smart contract for leveraged borrowing and lending released by Back.finance. lt provides up to 3x leverage to yield farmers and enables users to maximize their returns.
PILOT: Pilot is a smart over lending protocol-based HECO chain released by Pilot Lab. It is the first over-lending product on the HECO chain. It supports users participating in liquidity farming through over-lending plus leverage to get more revenue.